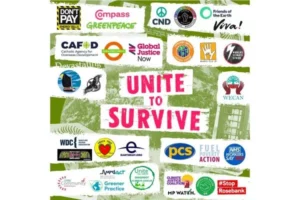 Progress on energy efficiency is too slow. We know the benefits by making homes more energy-efficient, warmer homes and lower energy bills to name but two. Yet the pace of upgrades has stalled in recent years, leaving almost two-thirds of UK homes in need of better insulation. That's why the report by the UK Business Council for Sustainable Development that calculates that the pace of the new government insulation scheme, announced last week as part of a wide-ranging energy security strategy, would take almost 200 years to reach the homes in need of upgrading.  It's an urgent wake up call to government to reverse its poor record on heating homes. The news comes eleven days before thousands will gather in London to take part in four days of action to protest over the UK government's failure to act on the climate crisis.
According to a report in today's Guardian, critics of the government's Great British Insulation Scheme, which aims to insulate 300,000 homes a year over the next three years, have raised concerns that the plan does not go far enough to reach the 19 million UK homes that need better insulation.
The number of energy-efficient home improvements in the UK, such as insulating lofts and cavity walls, reached a peak in 2012 at 2.3 million. However, under the Conservative government, efficiency programmes were drastically cut, which caused a decline in home improvements. Annual installations fell to less than 100,000 by 2021, a 96% decrease.
Matt Copeland, head of policy at National Energy Action, said progress on energy efficiency in the UK has been "way too slow for a decade" and the new scheme is "not well targeted at fuel-poor households, which need help most their bills.
"Our own analysis of the latest fuel poverty statistics for England found that it will now take around 300 years for the Government to meet its statutory target of all households using fuel efficient to reach EPC C (Energy Performance Certificate level C ) – well behind 2030 deadline" he added.
Home insulation grants are considered a crucial part of the UK's plan to become a net-zero-carbon economy by 2050 by making homes more energy-efficient but there are serious doubts that this target will be achieved. That's why a massive turn out in London is expected at the Unite to Survive – 'The Big One' – four days of action from the 21 to the 24 April, where people from all groups and movements, from faith organisations, NGOs, Greenpeace, Friends of the Earth, trades unions and XR, will gather throughout Westminster and at the Houses of Parliament.
Greenpeace UK's head of climate, Mel Evans: "The UK government is failing to deliver the kind of wholesale action needed to avoid full-blown climate breakdown. That's despite the stark warnings of 'act now or it will be too late' from the global scientific community just this week."
You can find out more about this landmark event at: https://extinctionrebellion.uk/the-big-one/#tell-me-more. Other links at: